From Research to Practice: Postgraduate Training Course in Reproductive Health/Chronic Disease
Course Report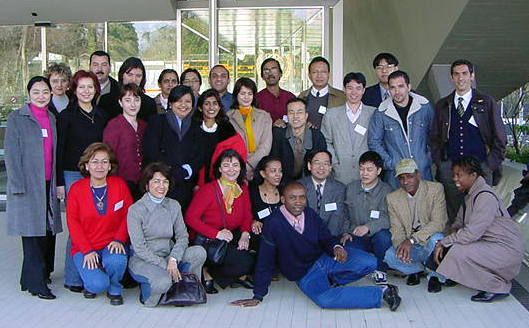 3 March 2003 – 11 April 2003
organised by
the Geneva Foundation for Medical Education and Research,
the UNDP/UNFPA/WHO/World Bank Special Programme for Research in Human Reproduction, Department of Reproductive Health and Research, Family and Community Health Cluster (WHO/RHR) and
the WHO Noncommunicable Diseases and Mental Health Cluster (WHO/NMH)
in collaboration with
the Department of Health of the Canton of Geneva
the Faculty of Medicine, Geneva University
and
the Geneva Medical Association
Participants
This year, there were 31 participants from 23 different nations, of whom 30 received full study grants. See List of Participants - Reproductive Health; See List of Participants - Chronic Disease.
Course lay-out
For the first time in 2003, the course was also organised for participants in the field of Public Health/Chronic disease. The course was structured in a 2 weeks' research methodology module for all participants, followed by a 3 weeks' course in reproductive health or chronic disease.
Lectures
The Reproductive Health course was structured in eight modules with morning lectures and afternoon sessions, as follows: Reproductive Biology; Genetics; Family Planning; Infertility; Gynaecological Endocrinology; Sexually Transmitted Diseases and Gynaecological Cancer; Obstetrics.
The Chronic Disease course was structured around the following topics: Diabetes; Cardiovascular Diseases; Substance Abuse; Mental Health; Obesity; Cancer; Integrated NCD Prevention; Health Promotion; Surveillance. See Lecture plan
The afternoon sessions provided mostly more general information about different reproductive health/chronic disease issues in different regions and settings.
Speakers were WHO staff from the Geneva headquarters, lecturers from the Geneva University, GFMER and some invited speakers from academic institutions abroad. See List of Lecturers
Facilities
Throughout the course all students had access to personal computers (2 students sharing 1 computer) at the library of the Faculty of Medicine. Access to Internet and Medline enabled them to conduct the literature search, bibliographic review and prepare their written and oral presentation electronically. Basic training on the use of Internet, Medline and PowerPoint was provided. Two libraries (at the Faculty of Medicine and at WHO) were available for the participants and professional help from librarians could be obtained if necessary.
Exams
Research Methodology & Reproductive Health:
In order to obtain the University certificate, participants had to pass an exam, consisting of 3 parts:
· a bibliographic review on a topic of their interest, under the supervision of a tutor
· a 15 minutes oral presentation
· a multiple choice test (60 questions) and 2 open questions
All participants passed their exams.
Research Methodology & Chronic Disease:
The 15 participants in this group had to pass a similar exam to receive a certificate, issued by WHO/Non-communicable disease and mental health cluster.
All participants passed their exams.
Accommodation
Most of the participants stayed at 'Le Cenacle', some at the John Knox Guesthouse.
Funding
The course has been supported by the organizing institutions in collaboration with other Swiss and international organizations. Funding for scholarships came from a number of sponsors covering study grants for 30 participants, as follows:
| | |
| --- | --- |
| Sponsor | Use |
| The World Health Organization (NMH/WHO) | 15 study grants |
| The International Association for Maternal and Neonatal Health (IAMANEH) | 8 study grants |
| The World Health Organization (RHR/WHO) | 4 study grants |
| The United Nations Population Fund (UNFPA) | 1 study grant |
| The Swiss Government | 1 study grant |
| Geneva – Yaoundé Cooperation | 1 study grant |
| The Ernst Schering Research Foundation (ESRF) | Public relations |
Postgraduate Course (PGC) – Statistics and Historical Perspective
Edited by Aldo Campana,