Projets pour l'Enseignement et la Recherche au Laos
Rapport de la visite de courtoisie à Vientiane, du 24 juillet au 3 août 2008 - Blaise Bourrit, Yanick-M. Ebinger
Stakeholders meeting : Curriculum proposal
Vientiane, May 30, 2008
In collaboration with the Lao PDR Ministry of Health, the University of Health Sciences and the National Institute of Public Health
Objectives: Curriculum draft presentation
Location: Conference room of the University of Health Sciences, Vientiane , Laos
Chairman: Prof Dr Sing Menorath, Deputy Dean UHS
Participants: Representatives of:
Training and Human Resource MOPH
NIOPH
Public Health School
College of Health Technology
Mother and Child Health Hospital
University of Health Sciences
Mahosot Hospital
Ministry of Hygiene and Prevention
Aim: To present and discuss the draft of the curriculum on Reproductive Health and Sexual Health Research training course on the postgraduate level, in collaboration with several institutions' Laotian partners and the Geneva Foundation for Medical Education and Research of Switzerland.
Conclusion
For the first Pilot Course, student will be recruited from teaching hospitals, central hospital, UHS, NIOPH, MCH Centre, College of Health Technology and other departments from MOH.
Nominate Lao lecturers and teaching assistants for each module occording their expertise.
All modules will be taught collaboratively by lecturers from Laos and Switzerland.
Looking for small research fund for the participants to conduct research . One research project may consist of 3 - 4 students.
Video conferences will be organized with the technical support of the french Campus Numérique (IFMT)
Latest feed back from stakeholders about the content of the curriculum modules is expected in the next weeks.

Prof. Dr. Sing Menorath UMS, Dr Souraxay Phrommala, Deputy Director NIOPH, Dr. Alongkhone Phengsavan UMS
Vientiane, August 2008
Courtesy visit of the GFMER delegation
The Secretary of the Geneva Foundation for Medical Education and Research, Dr. Blaise Bourrit and the of the Collaboration Manager, Yanick-M.Ebinger met with aotian partners and Dr. Ornella Lincetto, WHO RHR Representative in Vientiane.
An interview with the Minister of Health of the Lao PDR, Dr. Ponmeck Delaloy, highlighted the relevance of the GFMER's Cooperation Programme in the context of health actions to achieve Millennium objectives in Lao PDR.

Dr. Chanthavysouk, Dr. B.Bourrit, Health Minister Dr. Ponmek Delaloy, Y.-M.Ebinger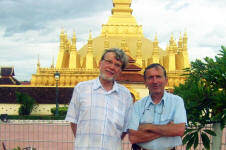 Y.-M.Ebinger - Dr. Chanthavysouk, Vientiane Coordinator - Dr. B.Bourrit, GFMER Secretary
Table des matières
Cette initiative bénéficie du soutien de :
Banque Pictet et Cie
Commune de Versoix