Training Course in Sexual and Reproductive Health Research 2010 - List of participants - GFMER members pages
Abraham Kiprop Mulwo
Department of Communication Studies, Moi University, Eldoret, Kenya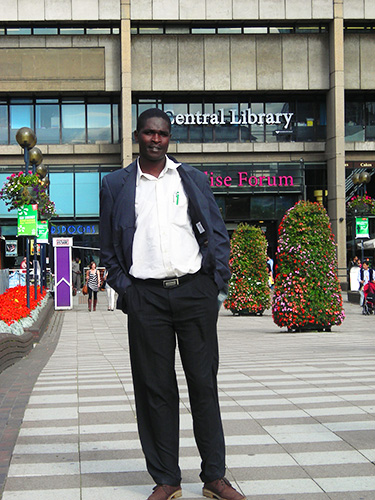 Abraham Kiprop Mulwo, Doctor of Philosophy in Culture, Communication and Media Studies
Lecturer, Department of Communication Studies, Moi University, Eldoret, Kenya
abraham.mulwo@gmail.com
Abraham Kiprop Mulwo works as a Lecturer at the Department of Communication Studies, School of Human Resource Development, Moi University, Kenya. He first joined Moi University as a Graduate Assistant in June, 2004, having previously worked briefly as a researcher with UNESCO/Ministry of Education, Science and Technology.
Mulwo graduated with a Bachelor of Arts Honours degree in Language and Literary Studies in 2002 and obtained a Master of Philosophy degree in Communication Studies in 2004, both from Moi University. He graduated with a PhD in Cultural and Media Studies at the University of KwaZulu-Natal, South Africa, in 2010. Mulwo has authored one book chapter, and co-authored four articles in refereed journals, with a number of his papers currently under review. He has also presented a number of papers at international conferences and has attended several academic workshops and seminars. His professional and research interests are in the areas of public health communication, community mobilization, sexual and reproductive health, and HIV/AIDS.
Mulwo holds membership in CODESRIA and the Association of Third World Studies (ATWS). He also recently worked as a research consultant with the Centre for AIDS Development, Research and Evaluation (CADRE) in the HIV prevalence and Knowledge Attitude and Practices Survey that was conducted at all the Higher Education Institutions in South Africa.Mulwo is married and loves athletics, badminton and watching football.
Publications
Book chapters
Mulwo, AK. Role of African Universities in Mitigating the spread of HIV/AIDS in Africa. In: The Role of African Universities in the Attainment of the Millennium Development Goals. Nairobi: Kenyatta University: 2006 p. 193-198.
Journal articles
Mulwo AK, Tomaselli KG, Dalrymple L. Condom brands, perceptions of condom efficacy and HIV prevention among university students in KwaZulu-Natal, South Africa. African Journal of AIDS Research. 2009; 8(3):311-320.
Mulwo AK, Tomaselli KG, Dalrymple L. Social Constructions of "Being Faithful" among University Students and the Implications for their Reception of Partner Fidelity Messages. Communicare: Journal of Communication Sciences in Southern Africa. 2009; 28(2):1-22.
Mulwo AK, Tomaselli KG. Sex, Morality and AIDS: The Perils of Moralistic Discourses in HIV Prevention Campaigns among University Students. Communicatio: Southern African Journal of Communication Theory and Research. 2009; 35(2):219-237.
Masese ER, Mulwo AK. Audience Attitudes towards HIV/AIDS Campaigns in Uasin Gishu District, Kenya. Mila: Journal of the Institute of African Studies. 2005; 6:47-54.
Links