Maternal and perinatal health - Course files
Postpartum depression: An overview of treatment and prevention
Elizabeth Corey, Shyam Thapa
From Research to Practice: Training Course in Sexual and Reproductive Health Research 2011
August 5, 2011 - Geneva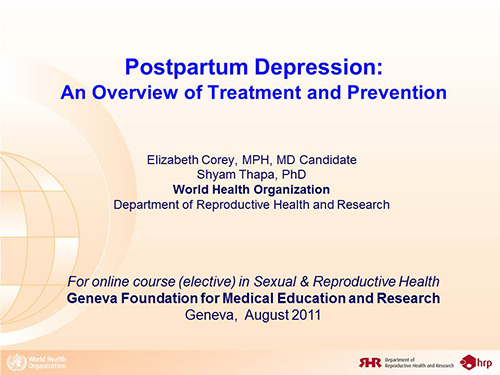 Download the complete document
Corey E, Thapa S. Postpartum depression: An overview of treatment and prevention. Paper presented at: Training Course in Sexual and Reproductive Health Research; 2011 Aug 5; Geneva. Available from: https://www.gfmer.ch/SRH-Course-2011/maternal-health/Postpartum-depression-Corey-2011.htm
See also Postpartum depression: An overview of treatment and prevention - Elizabeth Corey, Shyam Thapa (presentation with audio)
Key reading materials
Araya R, Rojas G, Fritsch R, Gaete J, Rojas M, Simon G, Peters TJ. Treating depression in primary care in low-income women in Santiago, Chile: a randomised controlled trial. Lancet. 2003 Mar 22;361(9362):995-1000.
Bolton P, Bass J, Neugebauer R, Verdeli H, Clougherty KF, Wickramaratne P, Speelman L, Ndogoni L, Weissman M. Group interpersonal psychotherapy for depression in rural Uganda: a randomized controlled trial. JAMA. 2003 Jun 18;289(23):3117-3124.
Dhanda A, Narayan T. Mental health and human rights. Lancet. 2007 Oct 6;370(9594):1197-1198.
Engle PL. Maternal mental health: program and policy implications. Am. J. Clin. Nutr. 2009 Mar;89(3):963S-966S.
Fitelson E, Kim S, Baker AS, Leight K. Treatment of postpartum depression: clinical, psychological and pharmacological options. Int J Womens Health. 2010;31-14.
Kessler RC, Andrews G, Colpe LJ, Hiripi E, Mroczek DK, Normand SLT, Walters EE, Zaslavsky AM. Short screening scales to monitor population prevalences and trends in non-specific psychological distress. Psychol Med. 2002 Aug;32(6):959-976.
Nazareth I. Should men be screened and treated for postnatal depression? Expert Rev Neurother. 2011 Jan;11(1):1-3.
Patel V, Araya R, Chowdhary N, King M, Kirkwood B, Nayak S, Simon G, Weiss HA. Detecting common mental disorders in primary care in India: a comparison of five screening questionnaires. Psychol Med. 2008 Feb;38(2):221-228.
Patel V, Araya R, Bolton P. Treating depression in the developing world. Trop. Med. Int. Health. 2004 May;9(5):539-541.
Patel V, Chisholm D, Rabe-Hesketh S, Dias-Saxena F, Andrew G, Mann A. Efficacy and cost-effectiveness of drug and psychological treatments for common mental disorders in general health care in Goa, India: a randomised, controlled trial. Lancet. 2003 Jan 4;361(9351):33-39.
Rahman A, Iqbal Z, Harrington R. Life events, social support and depression in childbirth: perspectives from a rural community in the developing world. Psychol Med. 2003 Oct;33(7):1161-1167.
Rahman A, Malik A, Sikander S, Roberts C, Creed F. Cognitive behaviour therapy-based intervention by community health workers for mothers with depression and their infants in rural Pakistan: a cluster-randomised controlled trial. Lancet. 2008 Sep 13;372(9642):902-909.
Rahman A, Patel V, Maselko J, Kirkwood B. The neglected "m" in MCH programmes--why mental health of mothers is important for child nutrition. Trop. Med. Int. Health. 2008 Apr;13(4):579-583.
Stewart DE, Robertson E, Dennis CL, Grace SL, Wallington T. Postpartum depression: Literature review of risk factors and interventions. Toronto Public Health, 2003.
Surkan PJ, Kennedy CE, Hurley KM, Black MM. Maternal depression and early childhood growth in developing countries: systematic review and meta-analysis. Bull. World Health Organ. 2011 Aug;89(8):608-615E.
World Health Organization. Maternal mental health and child health and development in low and middle income countries. Report of the WHO-UNFPA meeting held in Geneva, Switzerland. 30 January- 1 February 2008.
Assignment
For those interested in the topic, you may choose from some of the tasks suggested below:
Review existing policies and programs, if any, in PPD in your country and prepare a summary.
Conduct a literature search on what research, if any, has been conducted in the country you are interested in and prepare a short summary of the findings.
Review the attached article on cognitive behavior therapy-based interventions by community health workers for mothers with depression, and prepare a commentary on what aspects of the interventions could be feasible and acceptable to implement as a pilot project in your own community.
Suppose you are planning to do a post-intervention evaluation only of the pilot project. Propose a plan for evaluation of what worked and what did not the community-based pilot project.
Consider conducting formative research in your community to determine local awareness of PPD, local terms used to describe PPD, and current treatment for PPD.