Hassan Ali Ibrahim
Unit of Strategic Information, Ministry of Health, Mandera County, Kenya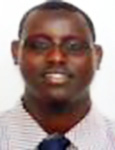 Hassan Ali Ibrahim, Bsc, MHS (in progress)
Research Officer, Unit of Strategic Information, Ministry of Health, Mandera County, Kenya
hasani3170@gmail.com
Mr. Hassan Ali Ibrahim was born on the 24thNovember, 1988. He graduated from Kenyatta University, Kenya with First class honors degree in Bachelor of Science (Environmental Health); School of Public Health. He is currently pursuing Masters of Health Science (Reproductive Health) at the Pan African University of Life and Earth Sciences, University of Ibadan, Ibadan, Nigeria under the African Union Scholarship.
He has worked with various local and International NGOs in the area of Sexual and Reproductive Health and currently as a research officer in the Unit of Strategic Information, Ministry of Health, Mandera County, Kenya. He is a member of the Association of Public Health Officers-Kenya (APHOK).
Hassan is enthusiastic about adolescent sexual and Reproductive health rights and improving maternal and perinatal health.
Links