Jagat Prasad Deep
National Medical College, Birgunj, Nepal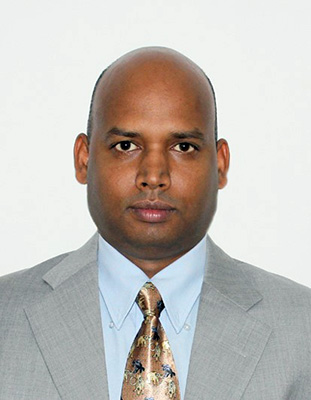 Jagat Prasad Deep, MD, OB-GYN and Gynecologic Oncologist
Assistant Professor, National Medical College and Teaching Hospital, Birganj, Nepal
jpdeep@hotmail.com
I was born in Nepal and brought up in India, apart from a nine-year period at graduate and postgraduate medical school in People`s Republic of China. I studied medicine at the School of Medicine, Xi`an Jiaotong University and graduated Bachelor of Medicine and Bachelor Surgery (MBBS-5 years course) in July 2005.
My interest in obstetrics and gynecology was stimulated early on in my career and I became a gynecologist after postgraduate study, Master of Surgery in Obstetrics and Gynecology (MS- 3 year's course) from Xiang-Ya School of Medicine, Central South University, Hunan China in July 2012.
I did my fellowship in gynecologic oncology and laparoscopy surgery from Asan Medical Center, South Korea, Minimal Invasive Surgery (MIS) from AIIMS New Delhi, Advanced Infertility & Test Tube Baby clinical training course from Sir Ganga Ram Hospital New Delhi, FIGO-Obstetric Fistula Surgery Fellowship from CCBRT, Tanzania and Diagnostic Ultrasonography from Indian College of Medical Ultrasound Mumbai, India.
Now I am working as an Assistant Professor at National Medical College and Teaching Hospital, Birganj, Nepal. I am an Editorial Board Member at EC Gynecology (ECGY) international peer-reviewed journal, Glasgow, UK, Peer Reviewer at Journal of Pediatric and Adolescent Gynecology and peer reviewer at Dove Medical Press, Auckland, New Zealand.
I have participated in various conferences, workshops and seminars and also credited numerous articles and presentations at various levels. A number of publications have been successfully published in SCI and non- SCI journals at national and international level.
Publications
Hysteroscopy Management of Adenomyosis Causing Incomplete Surgical Abortion Case Report. Deep JP, Dabao X. Journal of College of Medical Sciences-Nepal, Vol-7, No-2, June 2011.
Treatment of Cornual Heterotopic Pregnancy via Selective Reduction Without Feticide Drug, Zhang Qiong, Li Yanping, Jagat Prasad Deep, and Zhu Lin. Journal of Minimally Invasive Gynecology, Nov. 2011 18,766–768.
Treatment for severe intrauterine adhesion: A preliminary report. Xu Dabao, Deep Jagat Prasad, Han Xue-ying, Gloria F. Allornuvor, Wan Ya- Jun, Xue Min. China Journal of Endoscopy, Nov. 2011, Vol-17, 166-171.
Catheter based renal sympathetic denervation: Treatment option for resistant hypertension. B.M. Dhital, Ou Yang Mao, J.P. Deep, V.K. Rauniyar. Journal of college of medical sciences- Nepal, 2012, Vol-8, N0-2, 58-63.
Gestational Trophoblastic Disease, A Review article. JP Deep, LB Sedhai, J Napit, J Pariyar. Journal of Chitwan Medical College Bharatpur, Nepal, April-June 2013; Vol-3, No-2, Issue- 4, page 4-11.
Assisted Reproductive Technology, A Review article. JP Deep. Journal of Chitwan Medical College Bharatpur, Nepal, Volume 4, Number, Issue 7, Page1-10, Jan-Mar 2014.
Patients perspectives about healthcare services in a teaching hospital of eastern Nepal. Ansari Mukhtar, AlShammari Thamir M, Khan Salman and Deep Jagat Prasad. World Journal of Pharmacy and Pharmaceutical Sciences, Volume 4, issue 07, 932-941.
Links