Obstetrics and Gynecology Hospital
Medical Center of Fudan University, Shanghai
Dr. Xiaojun Chen, Obstetrics and Gynecology Hospital of Medical Center of Fudan University,
participant at the Geneva Postgraduate Course in Research Methodology and Reproductive Health
Introduction of Shanghai
Basic Information
Shanghai is situated at east part of China. It is the largest economic and transportation center in China.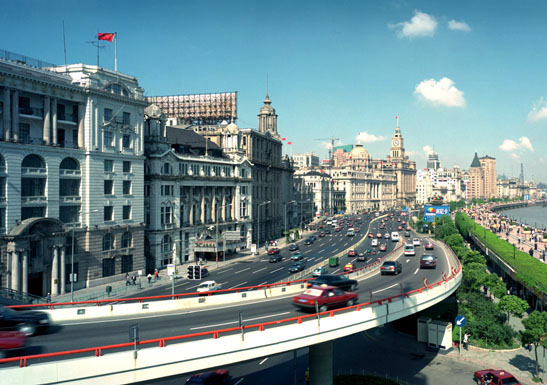 The city had a total area of 6,340.5 square kilometers at the end of 2000, 0.06% of China's total territory. Shanghai has an urban area of 3,924.24 square kilometers and rural area of 2,416.26 square kilometers. The city's Chongming Island is the third largest island in China, covering an area of 1,041 square kilometers. Shanghai is now divided into 16 districts and three counties. There are 171 towns, 3 townships, 93 subdistrict committees, 3,30 neighborhood committees and 2,771 villagers' committees in the city. By the end of 2000, Shanghai's population had grown to 13.2163 million (according to the permanent residence registration), representing 1% of China's total. Shanghai is now developing fast, especially in Pudong area.
The past ten years witnessed explosive economic growth in Pudong as well as an enormous change in the appearance of the city. Pudong New Area has become the landmark of Shanghai as one of the international economic centers in the 21st century. Now, the city is striving to turn itself into one of the economic, financial, trade and international shipping centers in the world.
Health
In 2001, Shanghai has 432 hospitals. Among them, there are 11 obstetrics and gynecology hospitals with 1297 beds and 810 doctors. The 3 level health care system is carried out well in Shanghai. In 2001, mortality for new born baby and infant were 0.312% and 0.571% respectively. Maternal mortality was 8.95/1,000,000.
Obstetrics and Gynecology Hospital of Medical Center of Fudan University, Shanghai
The Obstetrics and Gynecology Hospital of Medical Center of Fudan University (former Shanghai Medical University) is a teaching hospital developed from Xi Men Women and Children Hospital – a missionary hospital set up by an American woman – Ms Margaret Willianson in 1884. In 1951, it was affiliated to Shanghai First Medical College and renamed as the Obstetrics and gynecology Hospital of Shanghai First Medical College. The hospital belongs directly to the Ministry of Public Health. In 1992, it was approved to be the obstetrics and gynecology hospital of the Red Cross of Shanghai and was in the first group to be entitled "baby friendly hospital" by the Ministry of Public Health and the Children Foundation of the United Nations and WHO. The hospital was entitled IIIA specialized hospital in 1995 and the model unit of Shanghai in 1997-1998.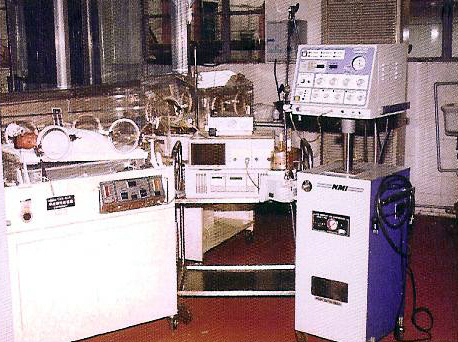 Pathologic neonate ward with advanced apparatus for emergency rescue
The Obstetrics and Gynecology Hospital, Fudan University is a famous first class hospital in China. It is a red-cross hospital with a history of more than 100 years old.
The hospital is famous for the following fields:
Gynecological oncology: especially good at the surgery for ovarian cancer, cervical cancer, endometrial cancer etc (radical hysterectomy and lymphectomy; cytoreductive surgery) and chemotherapy for gynecological cancer.
Infertility: laparoscopy for fertile surgery, IVF, immunotherapy for infertility
Endocrinology: treatment for all kinds of gynecological endocrinological diseases
Perimenopausal diseases
Cervical diseases: colposcopy, LEEP, hysteroscopy, laser treatment
Perinatal diseases: treatment for ICP and discordance of maternal-fetal blood type by Chinese medicine combined with western medicine; prenatal diagnosis
The hospital's occupying area is 12,000 square meters and its building area is 21,000 square meters. The hospital owns many kinds of facilities for diagnosis and treatment such as the whole set of gynecological endoscopes (including laparoscope, colposcope, hysteroscope and amnioscope), automatic biochemical analytical apparatus, 3-D color Doppler, color ultrasound, sound scan for bone mineral density, 800mA Siemens X-ray, TV laparoscope for diagnosis, treatment and teaching. There are 10 wards with 370 beds in the hospital including department of gynecology, obstetrics, family planning, traditional Chinese medicine combined with western medicine, neonatology etc. In addition to normal clinical departments, there are many specialized clinical departments in the outpatient department such as perinatology, genetics, endocrinology, oncology, infertility, perimenopause, cervical diseases, sexually transmitted diseases etc. The annual number of outpatient and inpatient is 270,000 and 70,000 respectively. There are 663 faculties including 61 professors and associate-professors in the hospital.

Advanced color Doppler Ultrasonography machine
In order to develop ascendancy the hospital set up the Obstetrics and gynecology Research Institute mainly working on women reproductive regulation in 1979, the Reproductive Regulation Research Center of Shanghai Medical University in 1986, the Traditional Chinese Medicine combined with Western Medicine Center treating menstrual disease in 1994 and the Shanghai Female Reproductive and Endocrinological Disease Center in 1998.
The hospital has a long history and solid academic basis. The former chairman of the hospital – Shuzhen Wang is one of the founders of Chinese obstetrics and gynecology. It has long been said that there was Shuzhen Wang in southern China and Qiaozhi Lin in northern China, both of whom were known all over the world for their academic achievement. Under Dr Wang's supervision, many qualified doctors have grown up from the hospital and became famous experts in the field of obstetrics and gynecology. With their great efforts, the hospital has the ascendancy over other hospitals in such academic area as reproduction and endocrinology, gynecological oncology, traditional Chinese medicine combined with western medicine, perinatology, perimenopause and reproductive immunology etc. The gynecology of traditional Chinese medicine combined with western medicine was entitled "The Ascendant academic of Shanghai".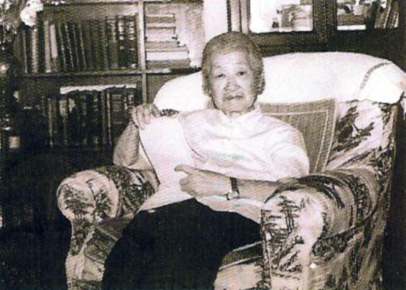 The deceased famous professor Shuzhen Wang, the first chairman of the Gynecology and Obstetrics hospital of Shanghai Medical University, was one of the founder of Chinese Gynecology and Obstetrics
The first tube baby in eastern China was born in our hospital. This achievement won the second prize of Shanghai Clinical Medicine in 1995. The Genetics and IVF Institute China-USA Center was set up by our hospital and the American Genetics and Laboratory Biology Institute in September 1998. More than 200 test tube babies have been succeeded since the opening of the center, the success rate is as high as 35%, this help the center's assisted reproductive technology gain the leading place in China.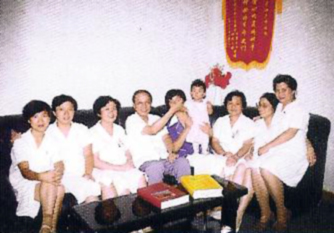 IVF&ET Research group and the first baby born through IVF&ET in eastern side of China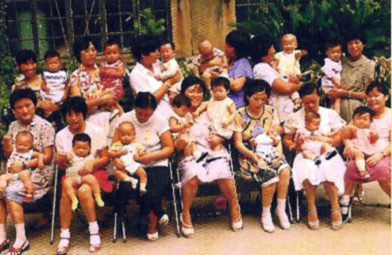 The children delivered in our hospital after treatment with HCG
Medical technique
Doctors carry out operations of highly developed technique in daily clinical work, such as operations for complicated gynecological diseases, cytoreductive surgery, transplantation of sigmoid for vaginal construction, hysterectomy and ovariocystectomy by TV laparoscope, laser therapy, excision of neoplasm or myomectomy of submucous myoma by hysteroscope, resection of endometrium for hypermenorrhea, HSG or SSG, salpingostomy, artificial insemination and test tube baby etc. According to the statistics in 1999, the correct diagnosis rate was 99.72%, cure rate was 90.59%, successful salvage rate was 88%, perinatal mortality was 7.2‰, maternal mortality was 0%. These achievements are at the leading place in Shanghai.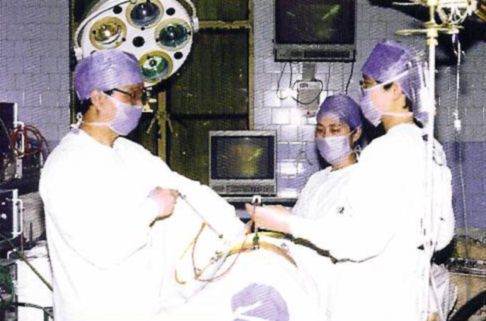 Performing laparoscopic operation
Teaching level
Xi Men Women and Children Hospital set up Xie He Nurse School and Shanghai Medical College for women, and undertook all teaching task since the early twenties in this century. Since its affiliation to Shanghai Medical University in 1951 the hospital undertook the teaching task of Ob&Gyn for undergraduate medical students. Every year the hospital finishes teaching, demonstrating and internship in Ob&Gyn for more than 300 undergraduate medical students and advanced teaching for more than 60 doctors from all over the country. Several national short-termed academic classes are held every year in order to promulgate new knowledge and technique. The hospital has taken up the task for postgraduate student training since the restoration of postgraduate system in 1978. There are 5 tutors for doctor degree and 16 tutors for master degree in the hospital at present. 69 masters and 26 doctors had got their degrees from the hospital. There are more than 40 students studying for doctor or master degree in the hospital annually. The hospital used to be the chief editing unit for unified text book of Ob&Gyn for Chinese medical college and university for many years. The text book of Ob&Gyn which was chiefly edited by Huaimei Zheng won the prize of outstanding text book and the second prize of scientific development by the Ministry of Public Health. The experts of our hospital published a great number of scientific monographs and clinical references since the foundation of the P.R. China. 13 monographs had been published in the latest 5 years. All these have helped the development of Ob&Gyn in China.
Education
The hospital is a teaching hospital, besides education for medical students and postgraduate students the hospital is one of the base for postdoctoral research. And there are more than 30 doctors coming to the hospital for advanced studies and nearly 10 national training courses.
Research and development
Gynecological oncology: standardized treatment, individualized treatment and synthetical treatment
Perinatology: hemodialysis for renal disease; ICP and immunology
Minimal wound surgery
Perimenopausal disease: prevention and treatment of oesteoprosis
Chiese medicine combined with western medicine: treatment of recurrent pregnancy loss, pelvic infectious disease, infertility, menstrual diseases and endometriosis
Reproductive immunology: immunological infertility
Reproductive endocrinology: genetical analysis, obesity etc.
Center for genetics and infertility
Scientific research
32 professional researchers and all clinical doctors are engaged in the research troop of the hospital. The research condition is fairly good. In addition to the research instruments in the Obstetrics and Gynecology Institute new labs for clinical research of gynecology, obstetrics, Chinese traditional medicine combined with western medicine and molecular biochemistry were set up in the late years. These provide advantage for the development of scientific research. In the latest 10 years the hospital won 42 prizes of scientific achievement, among them 2 were from the nation and 26 were from the ministry or commission. The hospital is at the leading place in the fields of Chinese traditional medicine combined with western medicine, gynecological oncology, and reproductive endocrinology. Chinese traditional medicine combined with western medicine is most outstanding and is at the leading place in the world. Representatives from Germany, England, America and Bulgaria used to come and study in our hospital in this field. The researches of early diagnosis and treatment for cervical cancer, pregnancy induced hypertension and the use of GNRH-a which is made in China in gynecology are at the leading place in the world.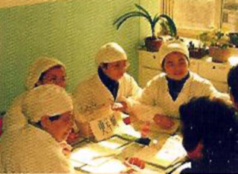 Gynecology of Chinese traditional medicine combined with occidental medicine is advanced speciality in Shanghai
With the development of economics and deepening of medical reformation the hospital has made new policy and measures for scientific development and staff training and is now working hard to build a modern Ob&Gyn hospital.

The future Obstetrics and Gynecology Hospital of Medical Center of Fudan University, Shanghai
Dr. Xiaojun Chen publications
Useful links