Meena Nathan Cherian - Director of GFMER Emergency and Surgical Care
Emergency and Surgical Care
Timely access to life-saving and disability-preventing emergency and surgical care services are crucial in the entire life-course from birth to old age (in pregnancy-related complications, trauma, congenital anomalies, cancer, abdominal conditions, disasters). Five billion people lack access to basic life-saving surgical care and yet it is not considered as a priority in the field of public health globally.
Dr Cherian leads the Geneva Foundation of Medical Education and Research (GFMER) initiative on Emergency and Surgical Care which includes:
Developing a strategy for sharing knowledge in the area of Emergency and Surgical Care;
Developing an online free access training programme for health professionals and stakeholders with interest in population health to learn about the importance of integrated emergency and surgical care within the framework of Universal Health Coverage (UHC);
Create and promote collaborations with organisations including WHO, and professional networks to ensure global as well as national level coordination for knowledge management towards meeting the Sustainable Development Goals (SDGs)
Capacity building in utilization of evidence-based publications on global burden, best practices, research translating into national policies, plans and programs for timely, affordable and safe surgical (including emergency, trauma, obstetrics, and anesthesia) services within the framework of UHC:

encourage and support initiatives to address local country needs through strengthening health systems towards meeting the SDGs
organize online training courses on integrated emergency and surgical care within the framework of UHC in collaboration with partners, institutions and ministries of health
provide technical support with relevant tools on assessment, capacity building and impact evaluation, for projects planning to use mHealth approaches for access to timely and safe surgical (emergency, trauma, obstetrics, anesthesia) care.
Team
Dr Meena Nathan Cherian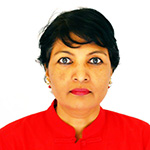 Dr Cherian, Director of GFMER Emergency and Surgical Care. https://www.gfmer.ch/GFMER_members/Meena-Nathan-Cherian.htm
Dr Vatshalan Santhirapala
Dr Santhirapala is an anaesthesiology trainee based at Chelsea and Westminster Hospital in London. He completed his bachelor's in respiratory medicine (BSc) and medical degree (MBBS) at Imperial College London, graduating with distinction. In 2015, Dr Santhirapala passed his medical board examinations and is a member of the Royal College of Physicians. He has a strong background in medical education, having been an anatomy demonstrator at Brighton and Sussex Medical School, during which he developed his own specialty modules on the critically ill surgical patient. In addition, he has spent three years as a research fellow at the National Heart and Lung Institute (UK) and run his own research projects leading to a number of peer reviewed articles in the area of clinical medicine. Dr Santhirapala's main interests in Global Health centre on the field of Global Surgery and delivery of essential surgical care. Dr Santhirapala will be undertaking a Master's in Public Health in 2018 during which he hopes to further develop his skills in this specialist area.
Dr David Andrew Spiegel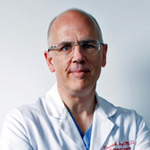 Dr David Spiegel works as a pediatric orthopaedic surgeon at the Children's Hospital of Philadelphia, specializing in neuromuscular diseases, trauma, and spinal deformities and is an Associate Professor of Orthopaedic Surgery at the University of Pennsylvania School of Medicine. He attended Duke University for college, medical school, and orthopaedic surgical residency training, and then completed both a research and a clinical fellowship in pediatric orthopaedics at the Children's Hospital of Philadelphia and the University of Pennsylvania School of Medicine. He has served as an Honorary Consultant in Orthopaedics and Rehabilitation at the Hospital & Rehabilitation Centre for Disabled Children in Banepa, Nepal, for nearly 20 years and is also an Honorary Professor at the University of Basrah, Basrah, Iraq. He has served on the Committee on Children's Orthopaedics in Underdeveloped Regions of the Pediatric Orthopaedic Society of North America (POSNA) and the AAOS international committee. He has been on the Board of Orthopaedics Overseas, Global-HELP, the Ponseti International Association, and Miracle Feet. He has received the President's Call to Service Award (2006), by the President's Council on Service and Civic Participation, for 4000 hours of community service, the Golden Apple Award by Health Volunteers Overseas (2009), and an AAOS achievement award (2014). He received the Humanitarian Award from the Pediatric Orthopaedic Society of North America (2013) and the Walter P. Blount Humanitarian award from the Scoliosis Research Society (2016), and the humanitarian award from the American Academy of Orthopaedic Surgeons (2017). He has served as a consultant for the World Health Organization in Mongolia and Somalia, and was on the steering committee for the WHO's Global Initiative for Emergency and Essential Surgical Care. He has delivered more than 300 invited lectures, mostly at international venues including Nepal, Iran, Iraq, China, Pakistan, Tanzania, Mongolia and Somalia. He has also co-edited a textbook entitled "Global Orthopaedics: Caring for Musculoskeletal Conditions and Injuries in Austere Settings".
Dr Sandro Contini
Professor Sandro Contini is a General, Vascular and Gastrointestinal Surgeon, former Professor of Surgery at the University of Parma, Italy. He worked for more than one year as Research Fellow at the Liver Unit of the King's College Hospital, London and at the Department of Surgery of the New Addenbrooke's Hospital, Cambridge (UK). In 2008 he was Temporary Advisor at the World Health Organization (HQ) due to his involvement in the Global Initiative for Emergency and Essential Surgical Care (GIEESC). He retired from the University in 2010 but since 2004 he is occupied in humanitarian missions as surgeon in low-income countries and conflict areas, mainly working with the Italian NGO Emergency, with the International Committee of the Red Cross (ICRC) and with Doctors without Borders. According to this, he developed a profound interest in the field of Global Surgery and delivery of essential surgical care, especially in severe settings.
Annarita Piazza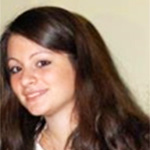 Annarita Piazza is enrolled in the Master's degree in "European Studies" (Orientation: Economics, Politics and Societies) at the Global Studies Institute of the University of Geneva. She obtained her Bachelor's degree in "European Languages and Cultures" with honors from the University of Modena and Reggio Emilia (Italy) and she spent two semesters abroad as an exchange student at the University of Lille III Charles de Gaulle (France) and at the University of Portsmouth (United Kingdom). Over the last year she has developed an ever-growing interest in international relations, human rights and international health law. Her bachelor's dissertation focused on media coverage in the United Kingdom of the Calais migrant crisis. She is currently an intern at the Geneva Foundation of Medical Education and Research (GFMER).
Dr Sarah Abo Alasrar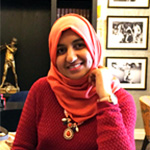 Dr. Abo Alasrar holds a Bachelor Degree in Medicine and Surgery from the Faculty of Medicine, Jordan University of Science and Technology. She successfully completed high program certificates in the area of Public Health with Harvard University, Stanford University and London School of Hygiene and Tropical Medicine to broaden her analytical approach and understand the challenges of complex problems that have their roots in social and economic conditions and the failure of health services to reach the poor. She is from Yemen, and expressly interested in addressing the increasingly complex challenges of Public Health in the context of Humanitarian Crisis and subsequently planning and coordinating health activities that will improve people's health and drive poor countries towards a sustainable development. She is currently assisting the GFMER Emergency and Surgical Care program to develop training modules on surgical care in the context of Universal Health Coverage, particularly in the section on Humanitarian Crisis. Prior to joining GFMER, Sarah served at Union Health Center New York: Colorectal Cancer Screening Program- to assist in coordinating and ensuring the disposition of screening kits for patients who are at risk of Colorectal Cancer in order to early detect the pre-malignant cases. She also volunteered with United Nations Children's Funds (UNICEF) on Child Protection Area of Responsibility; the Office of the United Nations High Commissioner for Human Rights (OHCHR) to translate countries' contributions to the yearly report of the UN Secretary-General to the General Assembly–A/RES/71/195. Furthermore, she assisted United Nations Development Programme (UNDP) on their Legal Study Research that supports the Centre's Research Team to better develop projects related to social protection in the Middle East and North of Africa Region.
Dr Aseel Mugahed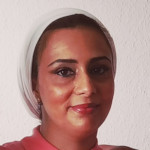 Dr Aseel Mugahed holds an M.B.B.S degree from faculty of medicine and general surgery Sana'a Yemen. She worked for two years in the department of radiology in Yemen. Following her arrival In Geneva she worked in a position of public health specialist at Action for Development (AfD) non-governmental organization where she was a member of a team that aimed to help vulnerable communities to have access to sanitation, education and health facilities services. Moreover, she successfully completed an advanced post graduate diploma in tropical medicine, surveillance and immunization from James Lind Institute of public health in Singapore. She is currently assisting the GFMER Emergency and Surgical Care program to develop public health training modules on surgical care in the context of Universal Health Coverage. She believes that the big challenges can't be resolved by any one country alone; what is needed is a multinational and multidisciplinary collaborative effort to do the research, to implement measures of prevention and control and to eliminate the problem altogether. Recently, she got enrolled in master program of global health in Geneva University. Dr Aseel is fluent in Arabic, English and French.
Dr Chandra Pauline Daniel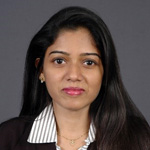 Chandra Pauline Daniel (Dinakar) Ph.D., is currently on the 'Artificial Intelligence' team of the Public-Private Analytic Exchange Program (AEP), of the Department of Homeland Security [DHS], a research program sponsored by the Office of the Director of National Intelligence United States of America. She is a Research Analyst and Evaluation consultant at the National Black Leadership Commission on AIDS in New York. She is actively engaged in program evaluation and development of strategies for the organization's state and federal funded programs on infectious diseases. As a consultant at the World Health Organization, Geneva, Switzerland in 2009, she contributed to the development of guidelines for phlebotomy. She served as a Public Health Program Manager at the High Intensity Drug Trafficking Area Task Force 2017 -an initiative of the Office of the National Drug Control Policy, U.S.A. She is a reviewer of scientific articles and engages in peer-reviews for the 'Journal of Social Medicine' of the Albert Einstein School of Medicine/Montefiore Medical Center. She completed her elementary school years in Nigeria followed by her education in India. Her doctoral research was in the field of Nutrition, Infectious Diseases and Substance Use Disorder in India. Her knowledge and understanding of the Asian and African culture plays a critical role in her inter-continental research ventures. Her international work and research experience have a global perspective, which is applied to her public-health interventions.
Dr Raymond R. Price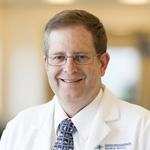 Recognized as an international leader and pioneer in expanding the role of surgery in public health, Dr. Price's work highlights the dramatic impact surgery can have on communities, economies and individuals. He co-founded and serves as the director of the Center for Global Surgery at the University of Utah and directs the graduate surgical education at Intermountain Medical Center, Intermountain Healthcare. He received his BS from the University of Utah, MD from Harvard Medical School, and completed his surgical residency at the Brigham and Women's Hospital. He is a Clinical Professor (Department of Surgery) at the University of Utah and has participated in or led medical and surgical expeditions to Asia, Latin America, and Africa. He has authored numerous peer-reviewed articles, book chapters, and books. He serves (or has served) in many leadership positions with the WHO Global Initiative for Emergency and Essential Surgical Care, the Society of American and Gastrointestinal and Endoscopic Surgeons (SAGES), the American College of Surgeons, and the International Surgical Society (ISS). Honors received include: Utah Medical Association 2017 Physician of the Year, Presidential Friendship Medal, Mongolia, American College of Surgeons-Pfizer International Volunteerism Award, a Medal of Honor from the Minister of Health of Mongolia, and multiple teaching awards.