José Villar
Elected Fellow ad eundem of the Royal College of Obstetricians and Gynaecologists
London, 16 September 2005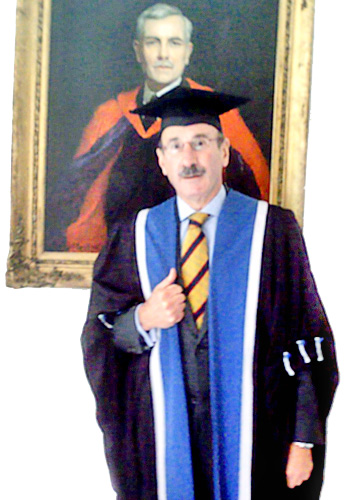 José Villar, M.D., M.Sc., M.P.H., FRCOG (London, ad eundem)
Council member of the Geneva Foundation for Medical Education and Research
Dr José Villar is an Argentinean Medical Doctor, with specialization in obstetrics, gynecology and perinatology. After clinical training, he gained in 1977 a Master of Sciences degree in Nutrition with the support of the World Health Organization. Dr Villar also has a Masters Degree in Public Health (MPH) from Harvard University, Boston, MA, USA, and completed his Post-doctoral Fellowship at the Johns Hopkins University, Baltimore, USA. Subsequently, Dr Villar was Assistant and Associate Professor of Public Health and Obstetrics and Gynecology at Johns Hopkins University until 1984. He was selected by Hopkins' students for the 1983 Excellence in Teaching "Golden Apple Award" at Johns Hopkins University. He was Director of the Division of Nutrition and Health at the Institute of Nutrition of Central America and Panamá (INCAP) of the World Health Organization in Guatemala during 1985 and 1986. In 1987 he was appointed "Expert" in Obstetrics at the National Institute of Child Health and Human Development (NICHD) of the National Institutes of Health (NIH), Bethesda, Maryland, USA, and visiting Professor at the Department of Obstetrics and Gynecology of Johns Hopkins School of Medicine, where he worked until joining WHO in 1989 as Medical Officer and Regional Manager, Americas Region, in the Special Programme of Research, Development and Research Training in Human Reproduction (HRP), World Health Organization, Geneva, Switzerland.
Dr Villar has authored 180 original scientific publications, book chapters and systematic reviews, is co-editor of 6 books and has made over 120 presentations at international medical meetings and symposia. Between 1981 and 1993, he was the Latin American scientist most quoted in clinical medicine in world scientific literature. He is coordinating editor of the WHO Reproductive Health Library, the WHO electronic review journal, based on Cochrane Systematic Reviews, focused on reviews of reproductive health topics, published annually by WHO since 1997. It has a distribution of 25,000 CDs per year in English and Spanish, and will be published in Chinese next year.
Dr Villar is presently the group leader for Maternal and Perinatal Health Research in the Department of Reproductive Health and Research of WHO in Geneva, Switzerland, and Director of the Postgraduate Course on Reproductive Health Research, offered annually by the Geneva Foundation for Medical Education and Research and the World Health Organization.