Training Course in Sexual and Reproductive Health Research 2014 - List of participants
Ayodeji Adebayo
College of Medicine, University of Ibadan and University College Hospital, Ibadan, Nigeria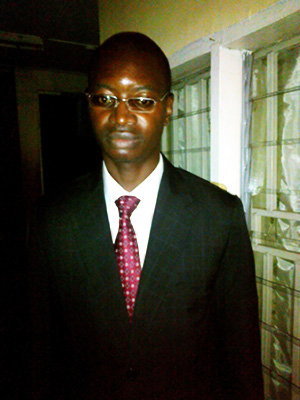 Ayodeji Adebayo, MD
Lecturer, Reproductive and Family Health Unit, Department of Preventive Medicine, College of Medicine, University of Ibadan, Ibadan, Nigeria
davidsonone@yahoo.com
I am a lecturer in the Reproductive and Family Health (RFH) Unit of the Department of Preventive Medicine at the College of Medicine, University of Ibadan, Ibadan, Nigeria and an Honorary Consultant to the University College Hospital, Ibadan, Nigeria. My responsibilities are to teach both undergraduate and postgraduate medical students, conduct operational research in reproductive and other community health related issues and provide preventive and curative medical services to organized communities under the institution. I am also involved in the training of resident doctors specializing in the field of Community Medicine. My vision is to impact and contribute to knowledge in an atmosphere of team work in issues relating to reproductive and family health and Community Medicine. Some of my research interests in (RFH) include: male involvement in reproductive health, school health, sexual dysfunction in men, evaluation of reproductive health services, family dynamics and child health.
Publications
Adebayo AM, Ige OK, Ilesanmi OS, Ogunniyan TB, Ojo T. Making a case for community screening services: Findings from a medical outreach in Ibadan, Nigeria. Annals of Ibadan Postgraduate Medicine. 2011;9(1):14-8.
Johnson OE, Adebayo AM. Effect of safety education on knowledge of and compliance with road safety signs among commercial motorcyclists in Uyo, Southern Nigeria. Ghana Medical Journal. 2011;45 (3):89-96.
Owoaje ET, Adebiyi OA, Adebayo AM. Sexual risk behaviours and HIV knowledge of migrant farm workers in a rural community in Nigeria. Afr J Med Sci. 2011;40:75-84.
Ige OK, Ilesanmi OS, Adebayo AM. Sexual risk behaviours among young people with adverse childhood experiences in Ibadan, Nigeria. Greener Journal of Medical Sciences. 2012;2(3):69-76.
Omokhodion FO, Adebayo AM. Occupational hazards and self-reported health problems of butchers in Ibadan, southwest Nigeria. Journal of Public Health. 2013;21 (2):131-4.
Links