Training Course in Sexual and Reproductive Health Research 2014 - List of participants
Howieda Fouly
Faculty of Nursing, Assiut University, Egypt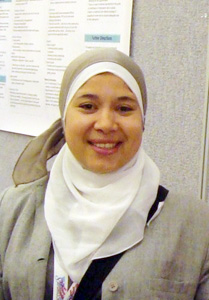 Howieda Fouly, PhD of Maternity, Obgyn Nursing
Lecturer (Assistant Professor) of Obgyn Nursing, Faculty of Nursing, Assiut University, Egypt
hoida_elfouly@yahoo.com
Dr. Howieda Fouly is a lecturer (Assistant professor) of Maternity, Obstetrics and Gynecology of Nursing, Faculty of Nursing, Assiut University, Egypt. She received her PhD from School of Nursing, University of Pennsylvania, USA and Faculty of Nursing, Assiut University, Egypt as Co-channel supervision from 2009 to 2011. She eventually earned her PhD on 2013. She started working as a faculty member fourteen years ago, recently collaborated on a research with colleague which is entitled subcutaneous sterile water injection for relief of low back pain during normal labor in response to midwifery role of the nurse, in Egypt. She currently resides in Assiut, Egypt with her husband Ahmed, and their sons Abdelrahman, Elhusseiny and Habib-Elrahman.
Publications
Fouly H, Stringer M, Darwish A, Eshra D, Nagieb S, Galal M. Nursing's Role with cervical cancer screening in Upper Egypt. Assiut Scientific Nursing Journal. 2013 Jun 1.
Fouly H, Mccool WF, Koucoi J. Ancient Egyptian Women's Health Care in Relation to Modern Women's Health Care Practices: An Overview. International Journal of Childbirth. 2012 Dec 1;2(4):269–76.
Ma C, Fouly H, Li J, D'Antonio P. The education of nurses in China and Egypt. Nurs Outlook. 2012 Jun;60(3):127–133, 133.e1.
Links