Training Course in Sexual and Reproductive Health Research 2014 - List of participants
Md Monoarul Haque
Faculty of Public Health, Bangladesh University of Health Sciences, Dhaka, Bangladesh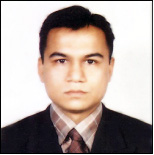 Md Monoarul Haque, MPhil in Public Health
Fellow, USAID Competitive Fellowship Award Program, Department of Community Nutrition, Faculty of Public Health, Bangladesh University of Health Sciences
monoarmunna@yahoo.com
Presently a Fellow, USAID Competitive Fellowship Award Program, Department of Community Nutrition, Faculty of Public Health, Bangladesh University of Health Sciences (BUHS) from 01.12.2013 to till now. He has an MPhil in Public Health (Community Nutrition) from Bangabandhu Sheikh Mujib Medical University (BSMMU). His main research interest is community nutrition & sexual and reproductive health issue especially on ethnic communities in Bangladesh because of their ethnic origin, culture, feeding practice, literacy rate and profession are different from those of indigenous Bengali people.
Publications
Haque MM, Bhuiyan MR, Chowdhury S, Islam K (2014) Nutritional Status and Dietary Intake Pattern of Male Drug addicts Undergoing Rehabilitation. J Nutritional Health Food Engg 1(1): 00006. Available from: http://medcraveonline.com/JNHFE/JNHFE-01-00006.php
Haque MM, Arafat Y, Roy SK, Majbah Uddin AKM, et al. (2014) Nutritional Status and Hygiene Practices of Primary School Children. J Nutritional Health Food Engg 1(2): 00007.
Links