Training Course in Sexual and Reproductive Health Research 2014 - List of participants
Wadie Elmadhoun
Faculty of Medicine and Health Sciences, Nile Valley University, Atbara, Sudan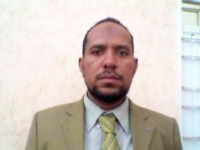 Wadie Elmadhoun, MD Pathology, MSc (HPE)
Head Department of Pathology, Associate Professor, Faculty of Medicine and Health Sciences, Nile Valley University, Atbara, Sudan
wadie2222@yahoo.com
Wadie Elmadhoun has graduated with an MBBS at the Faculty of Medicine – University of Khartoum 1996, and obtained his MD Clinical Pathology in 2005 from the same university.
Obtained an MSc in Health Professions Education at University of Gezira, Sudan 2014.
Was a Dean, Faculty of Medicine– Nile Valley University 2005-2009.
Interested in many fields of research areas particularly diseases that have great impact on the local community of River Nile State and of Sudan as a whole.
Links