Guy Mulinganya
Referral Provincial Hospital of Bukavu, DR Congo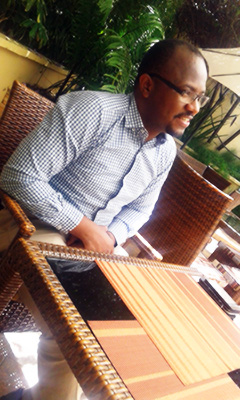 Guy Mulinganya, MD, Ob/Gyn Specialist
Medical Director, Referral Provincial Hospital of Bukavu, DR Congo
guymuling@gmail.com
I was born on 23th of June 1976, in south – Kivu, the eastern part of Democratic Republic of Congo. I graduated from Burundi University with a diploma of specialization in Obstetrics and gynecology in 2011 and obtained a Certificate of Gynaecology and Obstetrics ultrasound at Catholic University of Louvain and Free university of Brussels, Belgium, a Certificate partial specialized training in Gynaecology and Obstetrics at Catholic University of Bukavu and a Certificate of Methods and practice in epidemiology at the University of Bordeaux 2, France. I graduated from Catholic University of Bukavu with a diploma of medicine, surgery and delivery in 2003. Now I'm the medical director of Referral Provincial Hospital of Bukavu and lecturer at Catholic University of Bukavu.
Publications
Mulinganya G, Poncin R, Mulinganya G, Draguet A-P, Vincent C, Etienne L. An asymptomatic malignant Struma ovarii at saint pierre clinic of Ottignies, Belgium. Journal of Medicine and Medical Sciences. 2013 Feb 25;Vol. 4((2)):46-9. Available from: https://hal.archives-ouvertes.fr/hal-00853876/document
Munyuli MT, Kavuvu J-MM, Mulinganya G, Bwinja GM. The Potential Financial Costs of Climate Change on Health of Urban and Rural Citizens: A Case Study of Vibrio cholerae Infections at Bukavu Town, South Kivu Province, Eastern of Democratic Republic of Congo. Iran J Public Health. 2013;42(7):707-25.
Links