Ayşe Nilüfer Özaydın
GFMER Coordinator for Turkey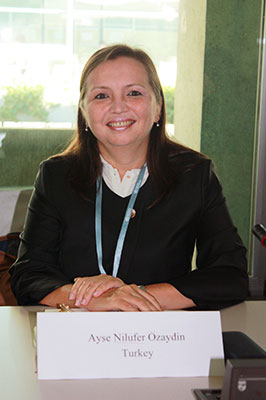 Ayşe Nilüfer Ozaydın, MD, MPH, PhD
Associate Professor, Marmara University, School of Medicine, Public Health Department, İstanbul, Turkey
Associate Professor, Eastern Mediterranean University, Dr. Fazıl Küçük Faculty of Medicine, Gazimağusa, North Cyprus
Associate Professor, Near East University, School of Medicine, Public Health Department, Nicosia, Cyprus (Guest Lecturer)
Email: nozaydin@gmail.com
Completed university degree, master's and doctoral education at Hacettepe University, Ankara, Turkey.
Received training from Liverpool School of Tropical Medicine in 1993 and '94 epidemiology and statistics, and program management in immunization.
Completed training in "International Relations of the European Union Specialist", in ATAUM (European Community Research and Application Center) in 2000-2001.
Worked as a primary care physician in health centers affiliated to the Ministry of Health, the provincial health directorates in charge of the provincial vaccination, and as the Ministry of Health General Directorate of MCH-FP branch of the Women's Health Reproductive Health.
Served as an adviser on various topics in the field of Reproductive Health for the Ministry of Health General Directorate of Mother Child Health and Family Planning, attended as a writer and lecturer to the preparation of curriculum of national reproductive health for the Faculties of Medicine on a national level, family planning counselling trainings, and adolescent's trainings.
Currently a member of Turkish Medical Associations (TTB) ( 1984-), Society of Public Health Specialists, Turkey (HASUDER) (Turkey), Society of Development of Medical Education (TEGED) (Turkey), the European Society of Contraception and Reproductive Health (ESC) and the vice president of the Breast Health Association.
Priority areas of interest are sexual and reproductive health, family planning, and breast cancer epidemiology, prevention of the diseases, immunization, health education and prevalence survey.
Currently, working as an academician in the Marmara University School of Medicine in Public Health department since 2001.
Useful documents from Turkey
Hacettepe University Institute of Population Studies (2009) National Research on Domestic Violence Against Women in Turkey, 2009. Hacettepe University Institute of Population Studies, T.R. Minister of State.
Hacettepe University Institute of Population Studies (2005) Turkey National Maternal Mortality Study. Hacettepe University Institute of Population Studies.Reproductive Health Programme, Ministry of Health General Directorate of Mother and Child Health and Family Planning.
Hacettepe University Institute of Population Studies. (2019). 2018 Turkey Demographic and Health Survey. Hacettepe University Institute of Population Studies, T.R. Presidency of Turkey Directorate of Strategy and Budget and TÜBİTAK, Ankara, Turkey. http://www.hips.hacettepe.edu.tr/tnsa2018/rapor/TDHS2018_mainReport.pdf
Hacettepe Üniversitesi, Nüfus Etütleri Enstitüsü (2021) 2018 Türkiye Nüfus ve Sağlık Araştırması İleri Analiz Çalışması. http://www.hips.hacettepe.edu.tr/tnsa2018/rapor/TNSA_2018_ileri_analiz_raporu.pdf
The Breast Health Society. http://memeder.org/
The availability of contraceptive methods in Turkish pharmacies and the status of pharmacies and pharmacists as providers of contraception. Ozaydin A.N, Bozdogan Berk, Kıcı N, Ozaydin F.N. The European Journal of Contraception and Reproductive Health Care, 2020, 11th September. https://doi.org/10.1080/13625187.2020.1806999 PMID:32915090
The impact of training of peer educator on sexual and reproductive health: An interventional study. Ayse Nilufer OZAYDIN, Anil CIFTER, Berk BOZDOGAN, Nergis KICI. Marmara Med J 2020;33(2):75-82. http://doi.org/10.5472/marumj.738403 ISSN: 1019-1941, e-ISSN 1309-9469, 31 May 2020.
Men's knowledge and attitudes towards breast cancer: A descriptive study Ayşe Nilüfer Özaydın, Emrah Doğan, Berk Bozdogan European Journal of Breast Health Eur J Breast Health 2020 Jul; 16(3): 183–191. DOI: 10.5152/ejbh.2020.5193 PMID: 32656518