Meena Cabral de Mello
GFMER Coordinator of Early Childhood Development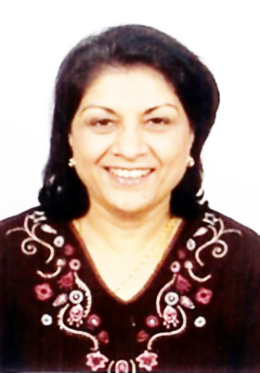 Meena Cabral de Mello, PsyD
Coordinator of GFMER's activities for Promoting Early Childhood Development through the Health Sector
cabraldemellom@gfmer.org
Meena Cabral de Mello is a developmental and clinical psychologist with specialized training in the areas of adolescent health and conflict resolution from Switzerland, UK and USA.
She is an Indian national and joined the World Health Organization Headquarter's Department of Mental Health in 1986 and retired as senior scientist from the Department of Maternal, Newborn, Child and Adolescent Health in August 2012.
She is an international expert and advisor with 30 years of experience in policy and programme development in the areas of:
Maternal, Newborn, Child and Adolescent Health and Development (MNCAH) in Primary Health Care.
Promotion of early psychosocial development and the prevention of developmental disabilities within MNCAH and Reproductive Health (RH) policies and programmes.
Prevention and management of mental health and substance dependence problems with special emphasis on gender disparities and the needs of the most vulnerable and underserved groups.
Reproductive health including psychosocial and behavioural aspects.
Addressing Social determinants of health and wellbeing across the life course.
Mainstreaming gender issues in health.
Since 1986, Meena held technical and advisory positions in WHO Departments of Maternal, Newborn, Child and Adolescent Health; Reproductive Health; Mental Health and Substance Abuse; Gender and Women's Health; and Health Strategy Coordination. She was responsible for advancing WHO's work in the above areas through strengthening the scientific and programme evidence; development of advocacy and policies; provision of technical and managerial support to ministries of health in resource-poor countries and those with high HIV prevalence rates, and development of partnerships for programme coordination. She visited over 50 countries and provided technical support to 40 of them.
She has coordinated/authored and/or been responsible for over 100 WHO publications.
In two of her most recent roles, she led the work of the WHO's Commission on Social Determinants of Health on Early Childhood Development through the Department of Ethics, Equity, Trade and Human Rights and she was the WHO's Focal Person for the areas of Early Childhood Development, as well as the Mental Health of Women, Children and Adolescents.
Notable among her positions as advisor on ECD were her memberships of:
UNESCO Advisory Board on Monitoring and Evaluation Guidance for School Health
The Consultative Group on Early Childhood Care and Education
Global Early Child Development Group
CRC Working Group on Implementing Child Rights in Early Childhood
UNICEF's Early Childhood Development Programme
The World Bank's Human Development Programme
International Child Development Programmes, University of Oslo, Norway
Dr Cabral was also extremely active in supporting the work of the Director General during the high level meetings of the Executive Board and the World Health Assemblies and the reform process of WHO since 2006.