Heli Bathija
Director of GFMER Knowledge Management and Sharing
Dr Heli Bathija, MD, Diploma of Tropical Medicine and Hygiene
heli.bathija@gfmer.org
Dr Heli Bathija completed her medical studies at the University of Turku, Finland and received a Diploma of Tropical Medicine and Hygiene from the School of Tropical Medicine, Liverpool University, UK. She has worked in hospitals and health centres in Finland, been a district medical officer in Senegal and been part of the breast cancer research team in the American Health Foundation in New York, USA.
From January 1986 to June 2012 Dr Bathija worked at the WHO Headquarters in the Special Programme of Research, Development and Research Training in Human Reproduction (HRP) in Geneva, Switzerland where she coordinated many multi-country research studies on reproductive health, involving about 50 countries, with topics covering the whole range of reproductive health issues from the safety of contraceptive use during breastfeeding to obstetric outcome of women with female genital mutilation.
As the Area Manager for the African and Eastern Mediterranean regions in the Department of Reproductive Health and Research her responsibilities related to research capacity strengthening as well as giving technical support on programme development in countries in the two regions. 2011 – 2012 she was also the Area Manager for the European Region. Dr Bathija has lectured and facilitated workshops on adolescent reproductive health, ethical issues in reproductive health as well as on gender and reproductive rights. She initiated in 2006 and continued to be in charge of a webcast lecture series in which experts from around the world present up-to-date information on reproductive health and research issues. Since 2010 she has initiated and promoted various mHealth projects. Since 2011 she was the coordinator of the WHO team in the EU-sponsored consortium "Africa Build".
Dr Bathija's involvement in WHO went beyond the science and country support: she has written scripts for shows and films, produced a photo exhibition on women and girls of Afghanistan and concerts for WHO staff, initiated and coordinated the WHO HOPE team to promote informal networking and discussions about issues dealing with family as well as 10 bus trips for WHO staff and families. In 2011 she developed a project "Omeed-e-kodak: Hope for the babies" for WHO volunteers to knit sweaters for newborn babies in Afghanistan. That project has by June 2012 expanded beyond WHO to several countries across the globe and is in July 2012 an innovative finalist for The "Saving Lives at Birth: the Grand Challenge for Development".
Dr Bathija is married and has three adult children.
Planned GFMER activities
Dr Bathija will
Develop a vision, strategy and plan of action for the overall area of Knowledge management and sharing of the Geneva Foundation of Medical Education and Research.
Champion and promote collaboration with organizations working on similar activities, including WHO.
GFMER Knowledge Management and Sharing will have three main lines of activities:
Capacity building in mHealth:

organizing training courses on mHealth ( with on-line and face-to-face components) – focusing on sexual and reproductive health;
providing technical support for projects planning to use mHealth approaches for sexual and reproductive health:

Assessments of feasibility
Proposal development
Evaluation of impact

Capacity building in utilization of guidelines on sexual and reproductive health:

providing technical support to initiatives on development of on-line training materials relating to WHO and other relevant sexual and reproductive health Guidelines - in English and French and other languages according to needs of various cadres of health professionals.

Translating research into policies and programs (TRIPP):

develop training materials for TRIPP focusing on sexual and reproductive health - - in English and French and other languages according to needs;
organize training courses on TRIPP ( with on-line and face-to-face components).
Images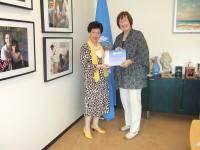 Dr Margaret Chan, WHO Director-General, and Dr Heli Bathija
Links