Heba FarajAllah
Médecins du Monde France, Gaza Office, Palestine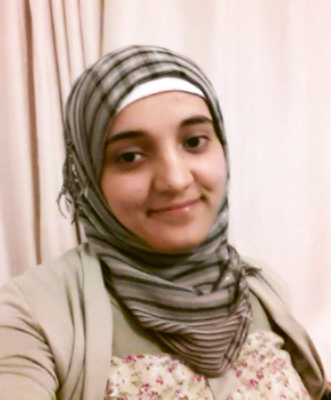 Heba FarajAllah, Midwifery MSc, BSc in Midwifery, Registered Midwife
Reproductive Health Maternity Officer, Médecins du Monde France, Gaza Office, Palestine
heb-al7ayt@hotmail.com
I am Heba from Palestine, live in Gaza Strip, 27 years old. In 2012, I gained a first class honours in my bachelor degree in Midwifery at the Faculty of Nursing at the Islamic University of Gaza (IUG). After graduating, I worked as a clinical midwife and also part time as an assistant teacher and clinical instructor with midwifery students. I acquired sound experience of using observational and practical skills during this professional work. In 2014, I completed an MSc in Midwifery (awarded with Commendation) at the University of Aberdeen, Scotland, UK. This programme developed my academic and research skills and built my strong background in health services research and reproductive health. My MSc dissertation was honoured with the Dr. Alice Kiger Prize for the best project in nursing and midwifery. My dissertation focused on women's experiences of childbirth in the Arab world - a systematic review of qualitative and quantitative research. I am working with my MSc supervisors to update and publish this study in March 2018.
My current work with with Médecins du Monde (MDM)-France, Gaza office broadens my knowledge and developed my skills in the sexual and reproductive health issues. My key responsibilities are to work with them on the final stage of their reproductive health project and contribute to implementation of specific result and activities of post abortion care.
I am grateful to have this great opportunity with Geneva Foundation for Medical Education and Research. This would give me a chance to deepen my knowledge in the inspiring, creative, and cosmopolite environment of one of the largest international organization around world. Moreover, I am confident that my experience would be extremely exciting, fun, and valuable for both my career and overall general development.
Links