Olajide Morakinyo Idowu
Ebute-Metta Comprehensive Health Center, Nigeria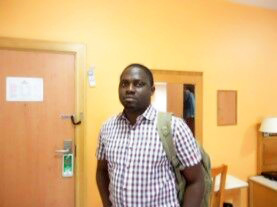 Olajide Morakinyo Idowu, MBBS, MRCGP (INT), CSP SRH/FP
Family Physician, Co-Supervisor Infant Welfare/Family Planning Clinic, Ebute-Metta Comprehensive Health Center, Lagos State, Nigeria
idowu.olajide81@gmail.com
I was born in Lagos, Nigeria, on April 22, 1981 as a third child in a family of six children.
I graduated from the College of Health Sciences of Ladoke Akintola University of Technology (LAUTECH), Osogbo, Osun State, Nigeria in December 2009 with Bachelor of Medicine, Bachelor of Surgery (MBBS).
After my internship at the Lagos State Health Service Commission, I started work as a medical officer in private and public hospitals. As a medical officer at the Ebute-Metta Comprehensive Health Center, situated at the densely populated Ebute-Metta Community, I developed interest and started training in family medicine. I completed training and examinations of Membership Royal College of General Practitioners (MRCGP INT).
Due to my interest in Sexual and Reproductive Health/Family Planning and my participation in the family planning clinic, I trained as a Clinic Service Provider (CSP) in Sexual & Reproductive Health/Family Planning at the Planned Parenthood Federation of Nigeria (PPFN)/International Planned Parenthood Federation (IPPF), Lagos State.
I currently serve as a Family Physician at the General Outpatient Department, and a Co-Supervisor of the Infant Welfare/Family Planning clinics of Ebute-Metta Comprehensive Health Center. I am also the officer in-charge of the Emergency/Disaster Management at the same hospital.
I have organised seminars, talks, health educations and trainings on Sexual & Reproductive Health and Family Planning, and other important health topics.
I speak English and Yoruba, my local dialect fluently.
Links