Training Course in Sexual and Reproductive Health Research 2012 - List of participants - GFMER members pages
Francis Njagi Kabugua
Department of Nursing, Mathari Hospital, Nairobi, Kenya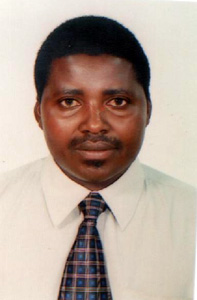 Francis Njagi Kabugua, KRCHN, KRPN, Certified LFC Trainer by International Council of Nurses
Nurse in-charge of Outpatient Department, Department of Nursing, Mathari Hospital, Nairobi, Kenya
fnkabugua@yahoo.com
Francis Njagi Kabugua is a Kenya Registered Community Health Nurse/Kenya Registered Psychiatric Nurse (KRCHN/KRPN) employed by the Ministry of Medical Services since 1995. He studied Diploma in KRCHN (1995) and Diploma in Psychiatric Nursing (1998) at Kenya Medical Training College (KMTC). While working in Mandera District Hospital (Nov.1995-August 1997), he was deployed as a nurse in-charge of various wards which includes pediatric ward, male/female medical and surgical wards and covering the hospital duties. He was attached to International Development and Relief Board-IDRB (1996) and his duties and responsibilities included identifying malnourished children in the community,offer nutritional advice to the families and enroll them for feeding programme, co-ordinate the admission, treatment and nutritional support services for weak and severely malnourished children in the hospital. He organized and participated in the refresher courses for Traditional Birth Attendants (TBA's) on save motherhood, breastfeeding, prevention of sexually Transmitted infections; including HIV/AIDS.
Currently, he is deployed at Mathari Hospital-Nairobi as Nurse in-charge of out-patient department. The main activities includes assessment, treatment, evaluation and admission of patients, organizing and co-ordinating the health education programme for the patients/ clients and their relatives to ensure health seeking and health promoting behaviours. He is responsible for Provider Initiated Testing and Counseling (PITC) services in the department; he assists and participates in the research activities in the hospital. He acts as a clinical instructor and a mentor for student nurses who are on clinical experience, and liaising with other health team members to ensure best practices.
He studied Leadership for Change (LFC) Programme (2005), organized by Internationa Council of Nurses (ICN). He is a certified trainer for the programme (LFC) since 2006. The course is co-ordinated by the National Association of Kenya to ensure nurse leaders are equipped with knowledge, strategies and strength to lead and manage changes during the health sector reforms and enhance their contribution in the health services.
He is a part-time lecturer (2005-up to date) at A.I.C Kijabe Hospital School of Nursing. He teaches psychiatry and Psychiatric Nursing, assesses and evaluates the students' performance both in theory and clinical practices. He is a Nursing Council of Kenya (NCK) board Member (2007-up to date). He has served in various standing committee which includes Education, Investigations, Licensing and Registration and Ethics and Standard Committees. He serves as a chairman of the Most Vulnerable Children (MVC) Support Grant management sub committee at Mathare primary School. The main activities are to ensure Retention, Return and Recruitment of most vulnerable children school. Other activities includes; educating the parents on safe motherhood, emphasis on hospital delivery and encourage referral of mother and babies to the hospital for family planning and immunizations.
He is a member of National Nurses association of Kenya (NNAK) and an official member of Mental Health Nurse Chapter (an affiliate of NNAK) i.e. April 2002 to April 2008, National Secretary and April 2008 to April 2012, National vice chairman. He served as a "polling/counting clerk" with Electoral Commission of Kenya in Starehe constituency during the December 2007 General Elections and as a "Supervisor" with the Kenya National Bureau of Statistics in Mathare 4A during the 2009 Kenya Population and Housing Census.
He holds various professional certificates in health related field. These includes:- Trends in Nursing (2005) from University of Dundee –Scotland, TOT for Nurses in the facilitation of HIV/AIDS prevention, treatment and care (2006) organized by ARCAN, TOT in TB/HIV co-management (2009) organized by ARCAN, Prevention of Mother to Child Transmission of HIV/AIDS - PMTCT (2010),and Family planning, Sexually Transmitted Infections, Comprehensive Care and management (FP/STI/CC – 2010), both organized by Ministry of Public Health and Sanitation – National Aids and STI control Programme (NASCOP) in collaboration Division of Reproduction Health (DRH). Epidemiology and Global Health (2010) jointly organized by University of Dundee – Scotland and International Prevention Research Institute (IPRI), Drug dependence , treatment and care, and psycho-social treatment (2011) jointly organized by United Nations office on Drugs and Crime (UNODC) and Ministry of Medical Services.
He enjoys traveling, adventures, photography, poetry and dancing. He is calm, polite and humorous. Actually, as part of professional growth and development, it is praiseworthy for him to attend the 2012 GFMER course to learn new concepts in the field of sexual and reproductive health. The knowledge and skills acquired will improve his performance which in turn will benefit many Kenyans and the world population at large.
Publications in journals
Kibue LN, Kabugua FN, Botela KW, Gathaiya NW, Karani AK. Needs assessment on training of mental health nurses in counseling at Mathari Hospital-Nairobi. Kenya Nursing Journal. Dec 2004, (32)(2):12-16.
Links