Training Course in Sexual and Reproductive Health Research 2012 - List of participants - GFMER members pages
Fredrick Kairithia M'ibuku
University of Nairobi, Kenya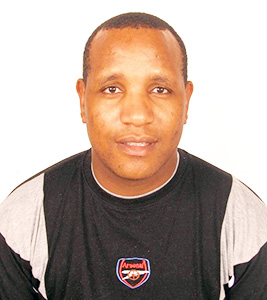 Fredrick Kairithia M'ibuku, MD
Resident, OB/GYN, University of Nairobi, Kenya
kairithiaf@yahoo.com
Dr Fredrick Kairithia is a medical doctor currently pursuing postgraduate studies in Masters in Medicine, obstetrics and gynecology at the University of Nairobi (UoN).
University of Nairobi is the oldest and top ranking university in Kenya providing world class education. Medical degree programs are administered in collaboration with the Kenyatta National Hospital (KNH), the largest referral facility in the Eastern and Central Africa.
At the same time, Dr Kairithia is a public health practitioner having studied Public health at Kenyatta University. His main area of concentration is monitoring and evaluation. This course was developed and administered by Kenyatta University (KU) in collaboration with Tulane University (USA) and USAID who financed and the curriculum development.
Upon graduating with degree in medicine (MBCHB) from Moi University, Dr Kairithia has served in various positions both in public and private sectors. He therefore has experience in health care provision and management in the ministry of health systems in rural Kenya as well as provision of health services in private sector where he worked shortly before enrolling in the postgraduate program. He worked in the Kenya's topmost HMO, Africa Air Rescue (AAR).
In addition to the medical related work experience, Dr Kairithia is also extensively experienced in medical insurance business. He has certificate of proficiency from the college of insurance in Kenya and has contributed in various national agenda on matters of insurance provision.
He founded and runs an NGO called Human Face Initiative (HFI) as the Executive Director. This principally aims at enabling access to medical services by the marginalized groups in the society. The main target populations are the residents of Slums in Nairobi and its environs, remote areas and other specifically identified groups.
Dr Kairithia key areas of research interest are maternal health specifically the immediate postnatal care, PMCTC and adherence to guideline, reproductive health and human rights and the MDGs.
He considers himself extremely privileged to have been selected to take part in this GFMER course. He hopes to share the skills learned with his peers, colleagues and juniors in order to make an indelible mark on the reduction of maternal morbidity and mortality in Kenya.
Links