Training Course in Sexual and Reproductive Health Research 2012 - List of participants - GFMER members pages
Mitra Molaeinezhad
Islamic Azad University Khorasgan Branch Isfahan, Iran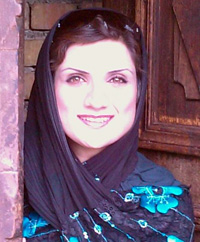 Mitra Molaeinezhad, Master of Midwifery, PhD Student in Reproductive Health in Mashhad University of Medical Sciences, Mashhad, Iran
Faculty Member in Midwifery, Department of Midwifery, Faculty of Nursing and Midwifery, Islamic Azad University Khorasgan Branch (Isfahan)
Expert in Vaginismus Treatment as a Clinical Sexologist, in Isfahan Psychosexual Clinic, Isfahan University of Medical Sciences
melika1353@yahoo.com
My name is Mitra Molaeinezhad and I'm a PhD student in Reproductive health in Mashhad University of Medical Sciences, Mashhad, Iran. I'm working in Midwifery Department, Faculty of Nursing and Midwifery, Islamic Azad University, Isfahan, Iran. I have conducted several activities in fields of sexual and reproductive health training, research, management and clinical care.
During the1st International congress on Midwifery and Reproductive health in Mashhad 23rd -25th May 2011, 7 Reproductive health PhD students, including me and one of our lecturers (Dr. Mirzaii) decided to gathering all to forming a Yahoo group for improving our education and researches to promote Reproductive health of our people. Some of our friends and advisors joined us. Now, Group has more than 70 members and it is expanding and I'm working as moderator of Reproductive health professionals of Iran Yahoo group (http://groups.yahoo.com/group/reproductivehealth-professionals-iran/) (RHPI) and try to keep them updated with Reproductive health news and connect them via weekly webinars.
Since May 2010, I also constructed a Persian website (http://drmolaei.ir/), as online Reproductive health care clinic for users who seek information about Reproductive and sexual issues. Now, my website has 800-1000 hits daily and users ask their questions and I try to send their answers as soon as possible. I wish, this website could supply a bit, unmet Reproductive and sexual education needs of our young people.
Links