Training Course in Sexual and Reproductive Health Research 2012 - List of participants - GFMER members pages
Martin Morris Okolo Etukoit
Development Associates International, Uganda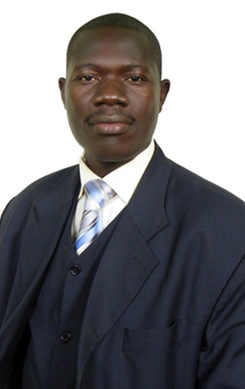 Martin Morris Okolo Etukoit, Bachelor of Development Studies, Administration and Management
emmoz4u@yahoo.com
I am articulate and expressive on justice, fairness, public health, and personal efficiency (responsibility, capability, self-motivation, self-management and simplicity). I have been building the capacity of community structures on public health matters, among others.
I am currently a second year student of Masters in Organisational Management and Leadership from Uganda Christian University-Mukono, Kampala Uganda. An MA in Organisational Management and Leadership-MAOL is a collaborative course administered on-line and on modular method with 14 days of face-to-face contact with professors conducted by Development Associates International –DAI, based in the United States of America-USA. Before that I completed my Bachelors Degree in Development Studies from Makerere University, Kampala in 2003. And in 2007, I had the opportunity to study a post graduate certificate in Administrative Law from The Law Development Centre in Kampala-Uganda. Besides that, I attended several workshops on Rights Based Approach to Development and on Peace and Preventive Diplomacy all in an attempt to find proactive solutions to trauma and mediation of Gender based violence cases in the war ravaged Teso-Uganda, my origin and place of work for the last seven years.
My course of action was heavily influenced by the management position I held in government as Senior Assistant Secretary in charge administration of all government institutions in the sub-county, katakwi district, Teso region, Uganda. I managed health centres/Units from the lowest health centre II based at the parish to Health Centre IIIs based at the sub-county and all the educational facilities that demanded for water, sanitation and reproductive health issues to be addressed right from the household to the Sub-county level, with minimal resource envelop for implementation and evaluation.
At the backdrop of all these was the fact that over 70%-seventy percent of the population was resettling after over 26 years of Internal Displacement caused by both Cattle rustlers of Karamoja region from North Eastern Uganda, the Pokot and Turkana of Northern Kenya, and the rebel army of The Lord's Resistance Army of the infamous Joseph Kony that made daring raids with bases in Sudan. I would thus want to enrich my understanding through research on matters related to these kind of people whose major issues may revolve around reproductive health of internally displaced, the elderly and reproductive health, physically disabled persons and reproductive health, mentally disabled persons as a result of excessive trauma from war, Gender based violence and reproductive health, HIV/AIDS in resettling communities in relatively now peaceful, semi-arid Teso region in Uganda.
Links