Sexually transmitted infections, HIV/AIDS - Course files
Designing and evaluating clinical algorithms for STI case management
Francis J. Ndowa
From Research to Practice: Training Course in Sexual and Reproductive Health Research 2012
June 19, 2012 - Geneva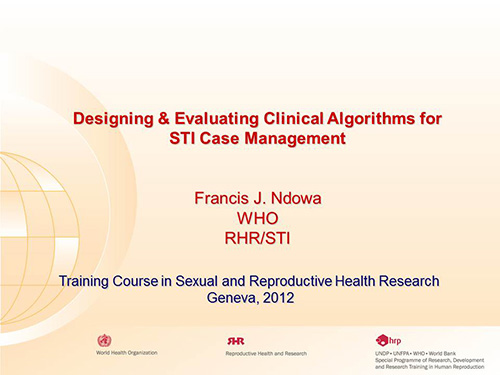 Download the complete document
Ndowa FJ. Designing and evaluating clinical algorithms for STI case management. Paper presented at: Training Course in Sexual and Reproductive Health Research; 2012 Jun 19; Geneva. Available from: https://www.gfmer.ch/SRH-Course-2012/sti/STI-case-management-Ndowa-2012.htm
Summary
Syphilis remains an important public health problem, and the resultant congenital infection enhances the burden of this condition even further. A large reduction in neonatal and infant mortality and morbidity related to congenital syphilis is feasible with a relatively simple set of existing interventions focusing on maternal and newborn care. The building blocks for congenital syphilis prevention are already in place in many countries, including: policy guidelines for universal antenatal syphilis screening; high levels of antenatal clinic attendance in many settings; screening tests are low cost and technically feasible even at the primary health-care level; and treatment with penicillin is inexpensive and is on the essential medicines list of all countries. Yet, despite these numerous facilitating factors,the numbers of deaths from congenital syphilis annually rival those that are caused by transmission of HIV from mother to child. Additionally, although many programmes are providing services for the prevention of mother-to-child transmission of HIV, there are missed opportunities for linking such interventions with screening for syphilis at the same time and providing instant treatment to infected pregnant women. Such a link would ensure that babies are not saved from HIV then only to die from a preventable and treatable infection such as syphilis.
What needs to be done:
Successful implementation of maternal syphilis screening programmes is dependant on identifying barriers and enhancing the health-care system's capacity to provide the services required, including increasing access to, and quality of, maternal and newborn health services by ensuring that all pregnant women access antenatal care early enough in pregnancy and that screening and adequate treatment is provided.
Relevant online resources