Training Course in Sexual and Reproductive Health Research 2013 - List of participants - GFMER members pages
David Ansu Conteh
Ethiopian Hospital Management Initiative, Addis Ababa, Ethiopia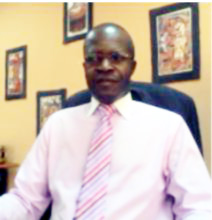 David Ansu Conteh, RN, BSc (Hon), SPGPN, SPPHN, PGCert (Research), ADM, MHA, MCMI, MACMP
Programme Director, Ethiopian Hospital Management Initiative, a CDC (PEPFAR)-Funded Programme, Addis Ababa, Ethiopia
dconteh@clintonhealthaccess.org
David Ansu Conteh completed his general adult nursing education in Sierra Leone and then in London (1985 and 1993, respectively). He obtained his BSc Honours in Community Nursing, Specialist Practitioner - Public Health Nursing, Specialist Practitioner - General Practice Nursing and Nurse Prescribing Postgraduate Certificate (Community Practitioner Nurse Prescriber) from King's College, University of London in 1997. He secured his Advanced Diploma in Healthcare Management from Edexcel, UK (1998), his Postgraduate Certificate in Research from the University of Salford, Greater Manchester, UK (2008) and a master's in Healthcare Administration from California South University, USA (2011).
He is a founding member of the Association of Change Management Professionals and a member of the UK Chartered Management Institute.
In 2005, David co-authored the Joint Area Review Grade Descriptors (performance assessment criteria) used in evaluating the effectiveness of relevant services (health, social services, education and voluntary services' contribution) at county/borough level in England for children and young people.
In 2007, he led the review of the State of Healthcare Regulation in Zambia and provided technical assistance to the Health Professionals Council of Zambia in translating the review recommendations into operational regulatory systems and processes.
As Nursing Technical Advisor, he collaborated with the Ethiopian Federal Ministry of Health (FMOH) to establish a national strategy for nursing services in 2009, as well as co-authoring the Ethiopian Hospital Reforms Implementation Guidelines (published in 2010) as lead author for its Nursing Care, Quality Management and Monitoring and Reporting Chapters. He also developed and led on the implementation of all tools necessary for hospital performance monitoring and improvement (HPMI), including supportive supervision site visit manuals in Ethiopia, and co-authored the 'Nursing Care Practice Reference Manual for Ethiopian Nurses and Hospital Managers' in 2011.
In 2012, he led the Tigray State of Ethiopia's Joint Review Mission on the implementation of the first three quarters of Ethiopian Fiscal Year (EFY) 2004 (July 2011 to June 2012 GC) of the second year of Health Sector Development Plan (HSDP) IV implementations, lessons learnt and challenges.
Links