Sexually transmitted infections, HIV/AIDS - Course files
Controlling STIs: synergies between prevention and care
Antonio Gerbase
From Research to Practice: Training Course in Sexual and Reproductive Health Research 2013
June 19, 2013 - Geneva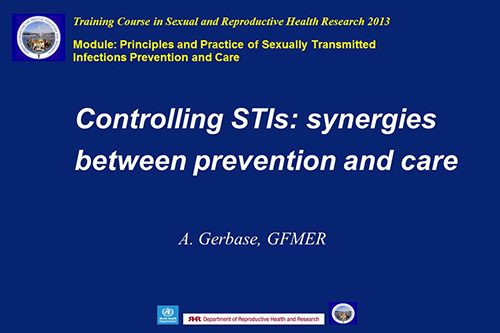 Download the complete document
Gerbase A. Controlling STIs: synergies between prevention and care. Paper presented at: Training Course in Sexual and Reproductive Health Research; 2013 Jun 19; Geneva. Available from: https://www.gfmer.ch/SRH-Course-2013/sti/Controlling-STIs-Gerbase-2013.htm
References
Global strategy for the prevention and control of sexually transmitted infections: 2006 - 2015. Breaking the chain of transmission. World Health Organization 2007.
Sexually transmitted and other reproductive tract infections. A guide to essential practice. World Health Organization 2005.
Dallabetta G, Wi TEC, Nielsen G. Prevention and control of STD and HIV infection in developing countries. In: Holmes KK, Sparling P, Stamm W, Piot P, Wasserheit J, Corey L, et al., eds. Sexually transmitted diseases. 4th edn. New York, NY: McGraw-Hill; 2008.